By Jamie Fallon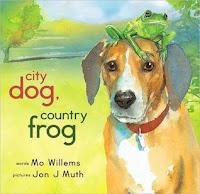 A few weeks ago I was perusing the shelves of a bookstore in search of gift for my nephew. Books are my favorite go-to gift for children, especially since I have a highly developed appreciation for quality children's literature from my experience as a teacher. I love books, and I love sharing them with others. When I go shopping for children's books, I enjoy meandering around the store and seeing what speaks to me as my eyes wander across the titles. There is an excitement that builds when expectations exceed that initial impression of the cover of a picture book as I flip through its glossy pages. And my most recent find drew me in like a magnet and left an impression on me in so many ways.
City Dog, Country Frog (2010, Hyperion Books for Children) by Mo Willems tells a playful and touching tale of friendship and life. One day, a dog befriends a frog waiting by himself in a field. The story unfolds sharing the games the unlikely pair plays as the seasons pass. The friendship evolves subtly over time. Then one winter, Dog is met by an empty rock and is left to cope with the loss of his friend, Frog. The story continues by demonstrating the processing and honoring of a loved one who has died, but it also reveals the cycle of moving forward and embracing new life experiences once again.
The sparing words and beautiful watercolor illustrations, by Jon J. Muth, tell a complex story in the simplest of terms. The book is relatable to both children and adults. I found myself tearing up as I read its pages in the bookstore. I knew I found something special. I gave pause in considering this book as a gift to my nephew because of its sad themes, but I also felt it sends a message of hope. City Dog, Country Frog seems like an appropriate vehicle to encourage healing as he has suffered the loss of a dear family member and beloved pet. Plus, he absolutely loves all animals.
Learn more about City Dog, Country Frog by listening directly from the author in this video. You may like to visit Mo Willem's official website to explore his other titles, as well. Many of these leave you in tears, but mostly because you are laughing so hard.